A meme circulating social media claims that Democratic Vice President candidate Kamala Harris said that after impeaching Donald Trump, Trump supporters should be rounded up.
FALSE
An example of the quote as it appeared on social media is below –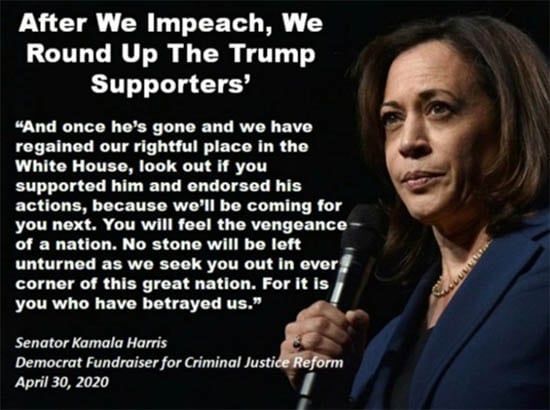 After We Impeach, We Round Up The Trump Supporters'
And once he's gone and we have regained our rightful place in the White House, look out if you supported him and endorsed his actions, because we'll be coming for you next. You will feel the vengeance of a nation. No stone will be left unturned as we seek you out in every corner of this great nation. For it is you who have betrayed us.
However Harris never said the above quote. In fact the quote originated from a site that posts spoof news items that are frequently mistaken as genuine news articles.
The site, bustatroll.org, is part of a network of spoof news websites operated by online troll Christopher Blair. Blair's network of websites is typically designed to target US conservative readers with fake news items and to lure conservative readers into sharing his spoof news stories across social media.
Continued below…
The bustatroll.org website carries the following disclaimer on its About Us page –
BustaTroll.org is a subsidiary of the "America's Last Line of Defense" network of parody, satire, and tomfoolery…
The article in question was originally published in August 2019 under the headline Kamala Harris:' After We Impeach, We Round Up The Trump Supporters'. The story went viral in 2019, and in 2020, a fake quote from the article was added to a meme (as above) which then began to circulate on social media.
We rank the quote as false.
The post Did Kamala Harris threaten to round-up Trump supporters? Fact Check appeared first on ThatsNonsense.com.